Sonseeahray "Sonce" Cheek, Owner
If you had told Sonce that she would ultimately own and operate a riding stable, she would have laughed. The Connecticut native and corporate professional loved riding in her youth, but her life after graduating from college didn't leave much time for horses. Sonce's career in personnel hiring and training, along with her marriage and two children, certainly kept her life busy. But she always was able to carve out time for running, even marathons. One day, Sonce's running club took a route through Country Acres in Parkland, and she marveled at how peaceful and removed it felt from the often hectic pace of everyday South Florida life. The run took her past Malachi Acres; with a daughter who was dying to take riding lessons, Sonce met then-owner Donice Muccio and made the arrangements.
Finding Malachi Acres became life-altering. While daughter Carly immersed herself in horses and riding, Sonce noticed the friendships being made, the confidence gained, and the positive impact the whole experience was having on her child as well as the other riders, not to mention herself! "Being at the barn with my daughter brought back my passion for horses. I thought, 'Why should Carly get to have all the fun?'" laughed Sonce. It didn't take much coaxing from Donice to get Sonce back in the saddle for lessons… which led to leasing a horse, then to actually competing in shows, and later even buying her own horse. Over the years, the barn became a joyful haven for Sonce and her family.
The "magic of Malachi" didn't happen by accident. Donice and husband Steve Muccio long dreamed of opening a professional riding academy and boarding stable that would provide a safe, wholesome, comfortable environment for both learning and horse ownership. Donice had cared for horses since 1988, and had been teaching riding lessons since 1993. Her combined love of children and horses, years of equestrian experience and a BS degree in Child Development/Psychology inspired the development of the Malachi Acres program, which Donice and Steve opened in 1999.
Sonce and Donice forged a close friendship, celebrating "wins" in and out of the barn and show ring. They were also there to support one another through losses and life hardships, including serious health issues for both of them. By far, the most difficult came when the Muccios made the painful decision to sell their beloved Malachi Acres. It was heart-wrenching for Sonce and countless young and adult riders, campers, boarders, and owners.
"The thought of losing this special place was unbearable," said Sonce. "The positive, nurturing environment Donice and Steve created at Malachi Acres had a tremendous impact on so many, especially kids. Friendships made at the barn remain to this day, and the experience of riding and connecting with horses turned shyness and uncertainty into confidence and joy. I couldn't see Malachi Acres not be here, it had become too important to not only me and my family, but to the community."
So it was in March, 2021 that Sonce left the corporate world behind and took ownership of Malachi Acres. "What a journey! It's an honor to continue Donice's legacy, and to keep the Muccio's dream alive. I love this special place they created, this peaceful oasis, and carrying on in tribute to Donice and my friendship with her means the world to me. I hope all who ride and visit Malachi Acres feel the magic here, too."
Gillian Muir, Dressage Instructor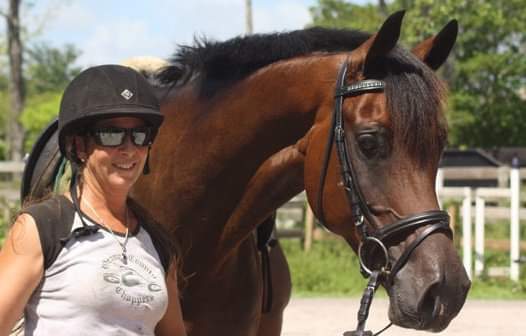 Gillian has been training and teaching the art of dressage for 35 years. She believes in combining new understandings of equine biomechanics with the traditions of classical riding to create a harmonious balance between horse and rider. She believes every horse deserves to be ridden well and enjoys working with all types of horses and enjoys the challenge of seeing how far a pair can travel through the levels of dressage. Gillian is happy to guide students in the competition arena, from local schooling shows to the national level.
Gillian's Lesson & Training Pricing:
$80 for 45 minute dressage lesson
$350 for package of 5 lessons
$475 + board for horses put into "full training"
Member of:
South Florida Dressage Association
Gypsy Vanner Horse Society
Parkland Horseman's Association
Thank you for putting your faith and trust in my tutelage and horsemanship.